The Ultimate Guide to Living Room Decoration: The Importance of Wall Art
Introduction: The living room is often the central hub of a home, where family and friends gather to relax and socialize. As an interior designer, I believe that living room decoration should be a perfect blend of style and functionality. The contemporary living room decoration styles have evolved to offer an array of possibilities, from minimalism to maximalism, and everything in between. In this article, we'll take a look at different living room decoration styles, their features, and why wall art is a crucial element in living room decor.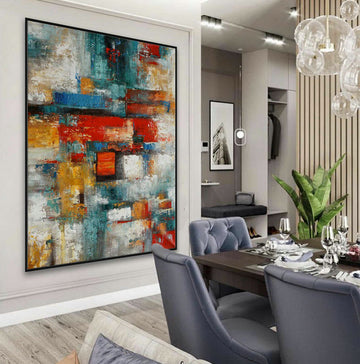 Minimalist Living Room Decor: Minimalist living room decoration style is all about clean lines and simplicity. It usually features a neutral color palette, simple furniture, and no clutter. To make a statement, one can incorporate a large-scale abstract painting or a simple graphic print. Black and white photography can also be used to add visual interest to the living room. A framed set of three prints in a row or an oversized print hung alone can create a dramatic focal point.
Maximalist Living Room Decor: Maximalism is all about bold, vibrant colors and patterns, and using different textures and materials in your decor. A maximalist living room can be a feast for the eyes, with an array of colors and patterns combined in unexpected ways. To balance out the maximalism, a gallery wall of prints and paintings in matching frames can be a great addition. The gallery wall can consist of different sizes and styles of artwork to create an eclectic look. Choosing a color palette to tie the pieces together can help avoid the gallery wall from looking cluttered.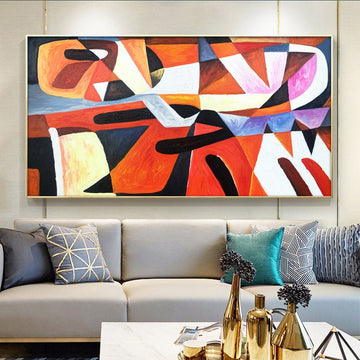 Scandinavian Living Room Decor: Scandinavian style decoration is known for its minimalism, simplicity, and functionality. A neutral color palette is the key in a Scandinavian living room, with white and light shades of gray being popular choices. A large, abstract canvas or a black and white print can be hung on the walls to add a visual interest. In addition, a wooden sculpture, a tapestry, or a woven wall hanging can add texture and warmth to the space.
Industrial Living Room Decor: Industrial decor is all about embracing the raw, unfinished look. It is usually characterized by exposed brick walls, concrete floors, and metal furniture. To soften up the industrial look, a statement art piece can be added to the living room. A black and white photograph or a large canvas in a bold color can create a contrast to the raw elements in the room.
Traditional Living Room Decor: Traditional living room decoration is characterized by classic furniture, a neutral color palette, and subtle patterns. In traditional decor, art is often used to create a refined, elegant look. A gallery wall of oil paintings or a large-scale portrait can be used to create a traditional look.
Importance of Wall Art in Living Room Decoration: In all of these decoration styles, wall art is an essential element in living room decoration. Art has the power to transform a room and create a mood. It can add color, texture, and visual interest to an otherwise bland space. Wall art can serve as a focal point and tie the room together, creating a cohesive look. A large painting or canvas can draw the eye in and make a statement, while a gallery wall can add a sense of depth and dimension.
Conclusion: In conclusion, living room decoration styles offer a range of possibilities, from minimalism to maximalism, and everything in between. Wall art is an essential element in living room decor and can create a focal point, add color, texture, and visual interest to the space. The style of the artwork should match the style of the living room decor, creating a cohesive look. With the right wall art, any living room can be transformed into a stylish and inviting space.