6 Exciting New Spring Wall Art Trends for 2023
As the seasons change, it's the perfect time to update your home decor, and what better way to do that than with some new wall art? Spring is a time for renewal, growth, and fresh ideas, and the latest wall art trends for 2023 embody all of those things. From bold and bright colors to oversized art pieces, there's something for everyone in this year's lineup. So, let's dive into the six new spring wall art trends for 2023!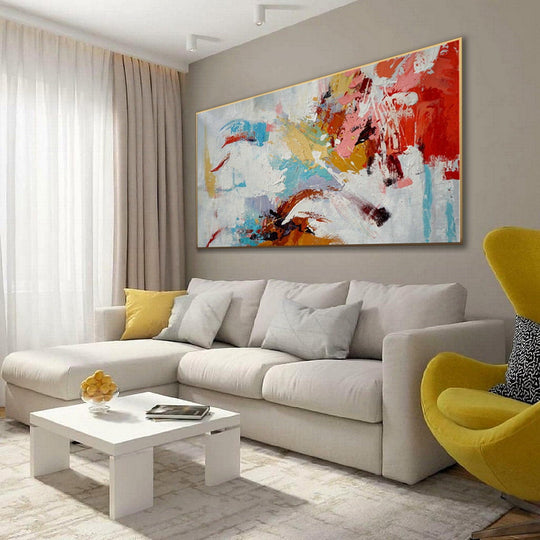 Bold and Bright Colors The first trend on our list is all about color! This year, bright and bold colors are in, and they're sure to make a statement in any room. Think large canvases in vibrant hues, or accent walls in bold shades. To really make a statement, consider complementary color schemes or monochromatic palettes.

Oversized Art Pieces If you want to make a big statement, oversized art pieces are the way to go. Whether it's a large canvas print or a wall mural, these pieces are sure to grab attention. When choosing an oversized piece, consider the size of the room and other decor elements, to ensure a balanced and cohesive look.

Nature-Inspired Art Spring is a time when nature comes alive, so it's no surprise that nature-inspired art is a trend this year. From botanical prints to landscape paintings, these pieces can add a calming and peaceful vibe to any space. To create a cohesive natural theme, incorporate natural textures and materials, and use earthy color palettes.

Vintage Art Vintage art is a trend that never goes out of style, and this year is no exception. Antique paintings and vintage posters can add character and charm to any space. To mix and match vintage and modern decor, use vintage art as a focal point in a modern space, or combine vintage and modern elements in a balanced way.

Geometric Shapes Geometric shapes are a trend that has been growing in popularity over the past few years, and they're not going away anytime soon. Abstract art and geometric prints can create a modern and minimalistic look that's perfect for spring. To create a modern and minimalistic look, use neutral color palettes and choose geometric shapes that complement the other decor elements in the room.

Textured Art Last but not least, textured art is a trend that can add depth and dimension to any space. Woven tapestries and embossed metal art are just a few examples of textured art that can make a statement. To mix and match with other decor elements, use textured art as a statement piece, or combine different textures in a cohesive way.
In conclusion, these six new spring wall art trends for 2023 are sure to inspire you to update your home decor this season. Whether you prefer bold and bright colors, oversized art pieces, nature-inspired art, vintage art, geometric shapes, or textured art, there's a trend for everyone. So, get creative and have fun decorating your walls this spring!